Two ways to update your SmartHost content: (1) For a single device / property, or (2) For multiple properties at once
Your slow or shoulder seasons are a great time to review SmartHost Content Items. Content Items are the content spoken by Alexa. Below, you'll find two different ways to update Content Items.
Property-level Content Items
Property-level Content Items are specific to a particular listing. To edit property-level Content Items, you will first need to select a property you want to edit, then choose the Edit Property Content button. After choosing Edit Property Content, you will see property-specific Content Items. You can edit existing Content Items, delete them, and/or add new ones.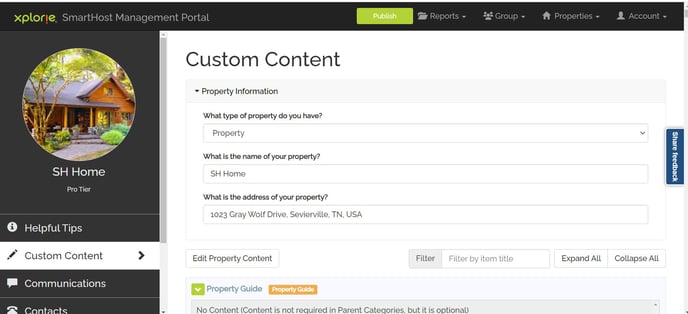 Property Content Items should include unit features that you would like to highlight. One example of an important property-specific Content Item is the WiFi password. While you can add WiFi network and password to the Optional Settings under the property address, it is important to remember that guests will only hear what is written within a Content Item. After you make changes, remember to Publish your updates. The Publish button is found on the top banner within the management portal.
Here's a helpful video tutorial to take you through the process step by step.
Multi-property Content Items

Using content from a chosen source property, you can manage multiple properties at once.
This feature is extremely useful when you have a new property coming into your management portfolio. You can can duplicate content from a similar property in the same area or resort instead of adding all the new information manually.
Check out the video tutorial:


Do you have questions or need more assistance?
Submit your requests here.