Echo Show devices allow you to incorporate videos with your custom property content. Videos are a great way to provide troubleshooting tips for working the television, or use video tutorials to help guests heat the hot tub.
Before you get started, you'll need to record a short video tutorial and save it to your computer as an MP4. The maximum video size is 100MB. Is your file too big? Use a free file size reducer like this one.
Format your video for SmartHost
To make sure that your video looks the absolute best on your SmartHost Show devices, keep these tips in mind:
Video format: .mp4
Max Video Resolution: 1920x1080
Video size: less than 100MB
To add your video to your property content:
Login to the
SmartHost Management Portal

Locate the appropriate property ➤
Custom Content

Click
Edit Property Content

Navigate to the Content Item that your video supports.
For example: include a fireplace tutorial with the Fireplace content.

Click the pencil icon in the right corner to Edit this Item



Click Show More Options

Scroll to the Upload Video File (MP4) section ➤ Choose your file

Click the Save button at the bottom right

Now click the Publish button at the very top of the page to publish the updated content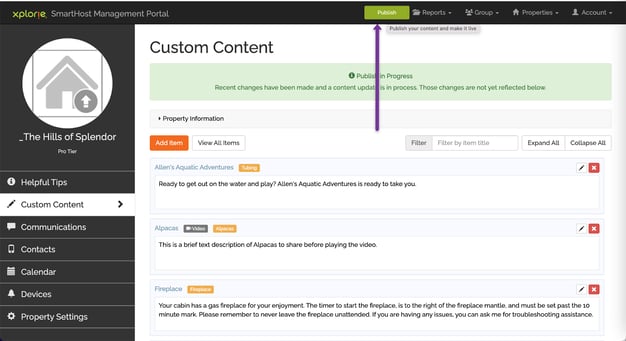 Need assistance in creating or updating content?
Submit your request here.