Create a SmartHost voice contact (including name and phone number) so guests can ask Alexa to place a direct call
You might find it useful for your guests to be able to call certain numbers directly from their SmartHost device. Perhaps you'd like them to be able to extend their stay, schedule treatments at your on-site spa, or make a reservation at your restaurant. If so, read on to find out how to enable direct calling.

Step 1. - Select Contacts from the Account dropdown at the top right of the screen
There you will see your contacts screen where you manage voice, email, and text contacts. Select Voice-Only Contacts tab (highlighted below).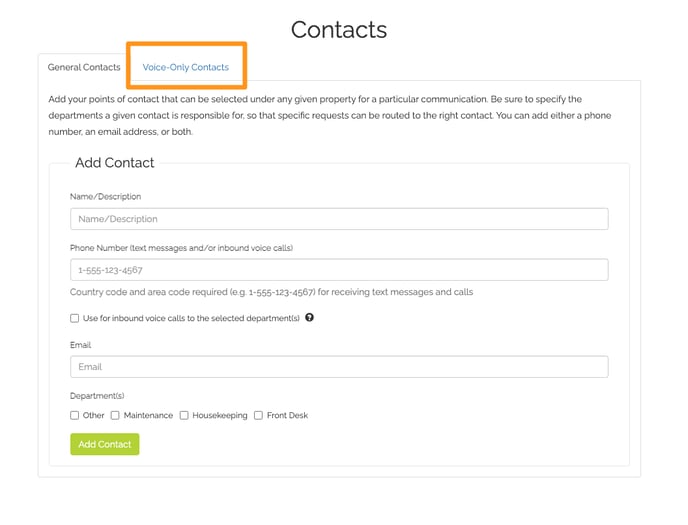 Step 2. Create your voice-only contact
In the Voice-Only Contacts tab, you can simply create a voice contact with a name and phone number.
👍 Be sure to include the country code.

That's it, you have created your first voice-only contact! Now, anytime a guest asks Alexa to call the contact, the call will be placed.
Below, you'll see a list of your existing contacts plus where you can edit each contact's information or remove a contact entirely.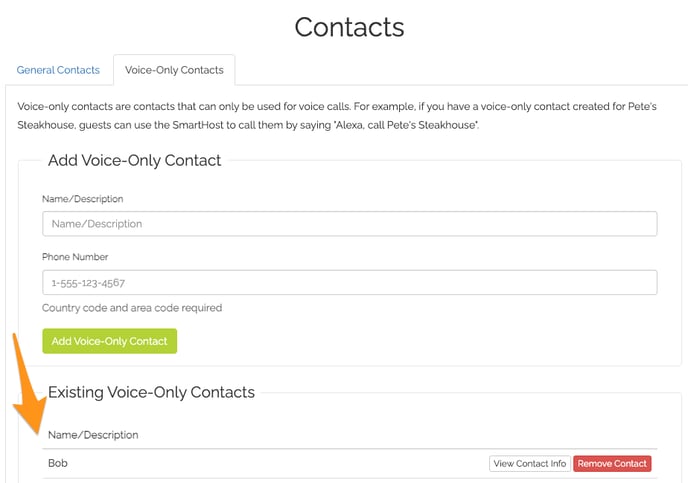 👍 Be sure to test your new voice-only contact by asking Alexa to call your contact name.
Do you have questions or need assistance?
Your client success team is here to help! Contact the team at clientsuccess@xplorie.com.
Contact Us
Client Success - clientsuccess@xplorie.com
Occupancy Reports - csc@xplorie.com
Accounting Department - accounting@xplorie.com or 850.337.4531
Owners Program - owners@xplorie.com or 850.337.4541